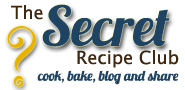 It's reveal day for Group A at
The Secret Recipe Club
. This month I was assigned the blog
Crumb
. Blogger Isabelle proclaims, "I'm a 30-something coffee-chugging, booty-shaking, bargain-shopping, cookbook-collecting, photo-snapping, trucker-swearing, farmers-market-loving self-taught cook with a Boy and two cats to feed." I looked through Isabelle's recipes and as soon as I saw this one knew it was the one that I was going to make. We had not had pancakes for dinner in a long time and strawberries were on sale at the grocery store! But she has so many great looking recipes on her blog that I will be back! As for these pancakes, the only change to the recipe below that I made was that I only used vanilla extract rather than 1/2 tsp. vanilla and 1/2 tsp. of almond extract. I never thought of adding strawberries into pancake batter. The kids of course loved these! Breakfast for dinner is always a hit....but whipped cream too?!! Extra special! I served these pancakes with sausage and pineapple to complete our dinner! Super tasty!
Strawberry Shortcake Pancakes
recipe very slightly adapted from
Crumb
Ingredients:
Strawberry-Yogurt Pancakes:
1 cup flour
2 tbsp sugar
1 tsp baking powder
½ tsp baking soda
Pinch salt
2 eggs
½ cup plain Greek-style yogurt
⅔ cup milk
2 tbsp melted butter (plus more for the griddle)
1 tsp vanilla extract
1 cup finely diced strawberries
Toppings:
Whipped cream
Chopped strawberries
Maple syrup
Directions:
1.In a large mixing bowl, sift together flour, sugar, baking powder, baking soda and salt.
2.In a separate bowl, whisk together eggs, yogurt, milk, melted butter and vanilla until combined. Pour into the bowl of dry ingredients, and stir with a whisk until the batter is smooth and lump-free.
3.Heat a large skillet or griddle over medium heat. Grease lightly with butter. When the butter starts to sizzle, drop in ¼ cup portions of batter.
4.Dot the surface of the pancakes with chopped strawberries. Cook for about 2 minutes or until a few bubbles start to form on the top, then gently flip over and continue cooking until underside is golden brown, about 1-2 minutes longer. Transfer the finished pancakes to a baking tray in a warm oven. Repeat this process until the batter is finished, re-greasing the pan as needed.
5.To serve, stack two or three pancakes onto each plate. Garnish each stack with a spoonful of chopped strawberries and a dollop of whipped cream. For those with a sweet tooth, drizzle with a little maple syrup or dust with icing sugar before digging in.
Family Rating:
2 thumbs up.