Our family loves Mexican food. More specifically we love tortilla chips and salsa. Add some guacamole and sour cream and I'm in heaven! I found this recipe and thought that the kids would enjoy it. It included their favorite chips and salsa as well as eggs which they also love. Minus the pre-cooking of the chicken, this dish was so easy to put together. Unfortunately, it does require an hour of cooking time, so this may not be an appropriate meal for a busy weeknight. We all (including the kids!) enjoyed this dish and I'd make it again.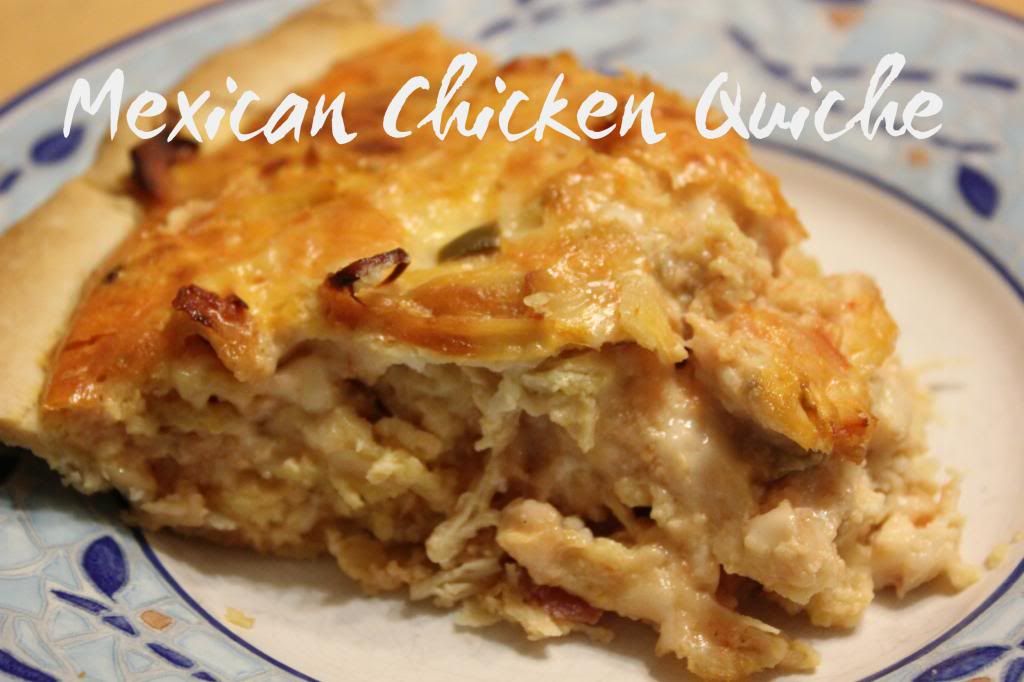 Mexican Chicken Quiche
recipe slightly adapted from
Cassie Craves
, adapted from Pillsbury
Ingredients:
1 pie crust
4 eggs
1 cup milk
1 1/2 cups cooked shredded chicken
1 1/2 cups broken tortilla chips
3 cups shredded Mexican-blend cheese
1 cup salsa
Sour cream, salsa, and cilantro for serving
Directions:
1. Preheat the oven to 350 degrees. Place the pie crust in a 9-inch pie pan.
2. In a medium bowl, beat the eggs with a wire whisk. Beat in the milk. Stir in chicken, tortilla chips, cheese, and salsa. Pour into the crust-lined pan.
3. Bake 55 to 65 minutes, or until crust is light golden brown and a knife inserted in center comes out clean. Let stand 10 minutes before serving. Cut into wedges. Sprinkle with cilantro and serve with sour cream and salsa.
Family Rating:
1 1/2 thumbs up.
This post is shared at:
Full Plate Thursday @ Miz Helen's Country Cottage
Creative Thursday @ Michelle's Tasty Creations
Foodjacabradalidocious Friday @ Not Your Ordinary Recipes