I had some leftover chorizo that I wanted to use up. When I saw this recipe I knew I wanted to try it. This was really easy to prep and then cooks in the oven for 25 minutes. It was a perfect weeknight meal for a cold winter's night. The kids picked out what they wanted to eat (chorizo, yes, spinach and mushrooms, no) but did try one bite of everything. My husband and I really liked this dish! I could have halved it so we didn't have as many leftovers as we did, but it was eaten up for lunches throughout the week. I would definitely make this dish again!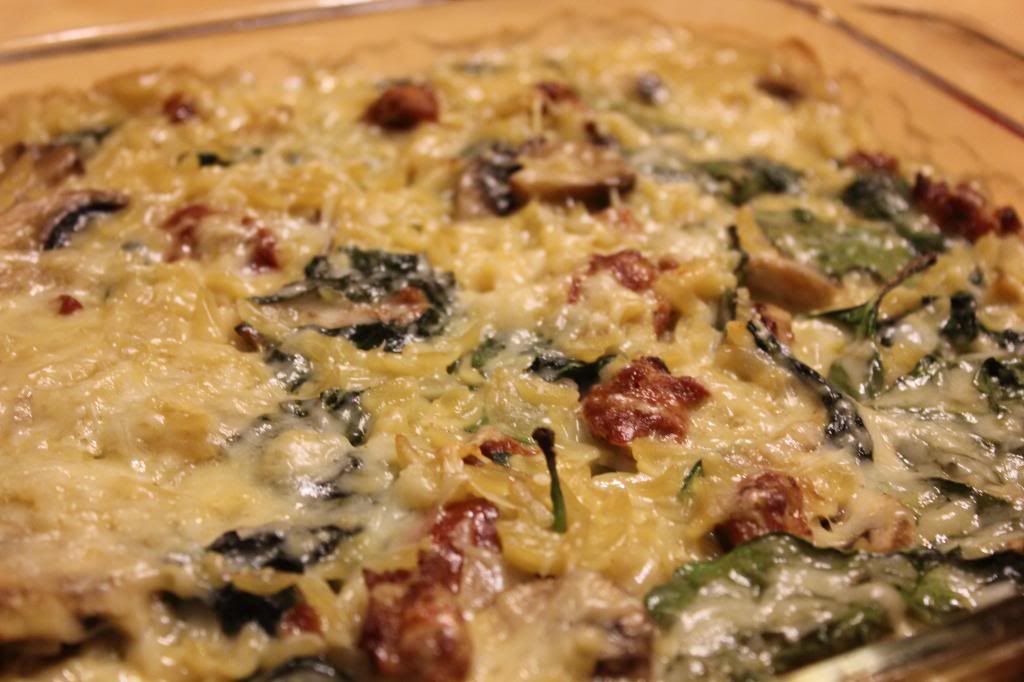 Baked Orzo with Chorizo and Spinach
recipe from
Mary Ellen's Cooking Creations
Ingredients:
4 cups chicken broth
1 pound orzo pasta
Chorizo; I used 2 links, each was about 6 inches long.
1 onion, chopped
2 cloves garlic, finely chopped
8 ounces mushrooms, chopped
1 cup white wine
1/2 cup heavy cream
1 c shredded cheeses - I used a mix of mozzarella, Parmesan, and asiago
More Parmesan cheese, for the topping, about 1/4 c
6 oz fresh spinach, roughly chopped
1/2 teaspoon salt
1/2 teaspoons freshly ground black pepper
1/2 cup bread crumbs
Directions
Preheat the oven to 400 degrees F. Grease a 9 by 13-inch baking dish.
Bring the chicken broth to a boil over medium-high heat in a medium saucepan. Add the orzo and cook until almost tender, about 7 minutes. Pour the orzo and the broth into a large bowl. Set aside.
Meanwhile, heat 2 tbsp olive oil over medium heat in a medium skillet. Crumble the chorizo into the pan and cook until browned, about 8 minutes. Add the onions and garlic, saute 3 minutes. Add the mushrooms, saute 2 minutes. Add the wine, stirring to scrape up all the brown bits. Let simmer until reduced by half, about 5 minutes. Add the sausage mixture to the orzo in the large bowl. Stir. Add the cheeses, stir. Pour in the cream and stir to combine everything.
Pour the mixture into greased baking dish. Sprinkle with bread crumbs and Parmesan cheese.
Bake uncovered until golden, about 25 minutes. I turned on the broiler for the last minute or two.
Family Rating:
2 thumbs up.
This post is shared at:
Full Plate Thursday @ Miz Helen's Country
Showcase Your Talent Thursday @ What's Cooking, Love?
Food-Spectacluar Friday @ Not Your Ordinary Recipes
Foodie Friday @ Simple Living and Eating