At a recent supper club dinner that the kids attended one of the members made a coconut shrimp. I could not believe how quickly my kids were gobbling them down! So when I saw this recipe I knew that they would love these tacos. They love tacos and filled with crispy, coconut shrimp.....yum! Originally I was planning on making homemade guacamole to serve with these. While at the grocery store I saw that Wholly Guacamole was on sale and would end up being cheaper (and easier!) than buying the ingredients for and making homemade guacamole. It was our first time trying it and....I'm hooked! It was really tasty and addicting! I highly recommend if you haven't tried. My husband commented that the shrimp were so good by themselves, which I have to agree with! However, I love putting sour cream and guacamole on things so I enjoyed them in the taco as well! I served this with some yellow rice which made for another meal that we all enjoyed.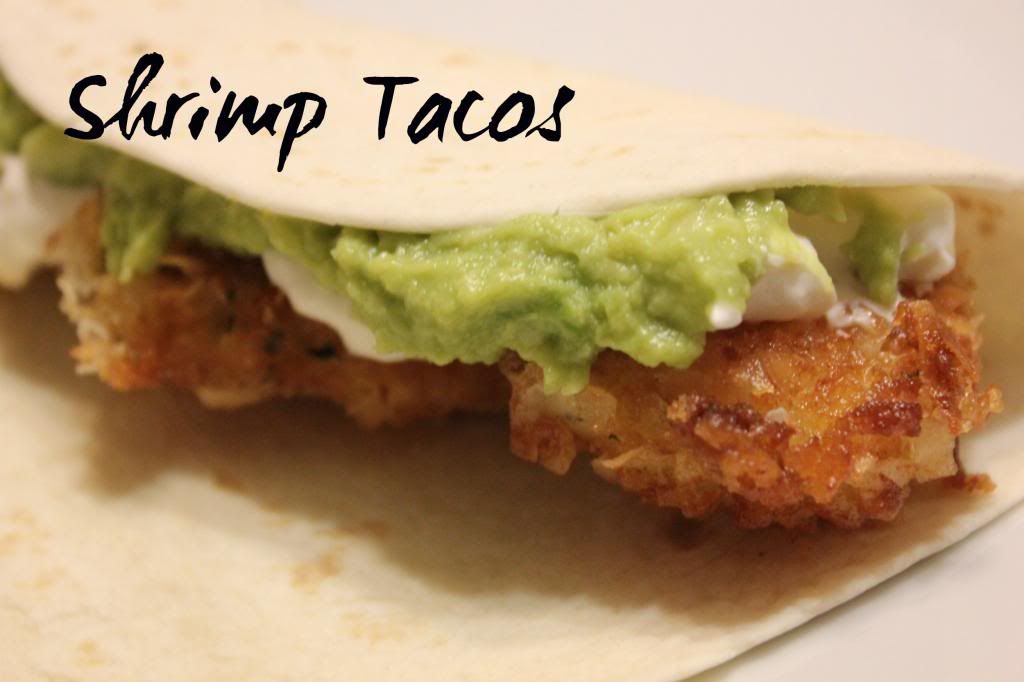 Crunchy Coconut Shrimp Tacos
recipe from
Miss Delish
Serves 6
Ingredients:
1 lb large Shrimp
3 Cups Panko Breadcrumbs
2 Cups Sweetened Flaked Coconut
1 cup Flour
2 Eggs
2 Tbsp Water
Salt and Pepper
Canola Oil (for Frying)
Tortillas
Directions:
Pour the Flour into a shallow dish and season with salt and pepper. Beat the eggs and water in another shallow dish. In one last dish add the Panko breadcrumbs and coconut. Bread the prawns by first coating in the seasoned flour, then dipping in the egg and lastly coating with the coconut and panko mix, make sure to press the panko/coconut on to each prawn to coat well.
In a heavy bottom pot pour about 2 inches of oil. Heat over medium high heat, it's ready when you drop in a breadcrumb and it sizzles and bubbles right away. Fry the prawns in small batches, and set aside on a stack of paper towels to absorb excess oil.
While still hot, season with salt to taste.
Serve in warmed tortillas with salsa, guacamole and sour cream!
Family Rating:
2 thumbs up!
This post is being shared at:
Back For Seconds Social Link Party
Wednesday Whatsits @ White Lights On Wednesday