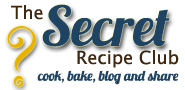 I am excited to be participating in my second month of
The Secret Recipe Club
. This month I was assigned Elana's blog,
Cook Book of Trial of Error
. This blog is filled with lots of tasty-looking recipes. Unfortuantely for me, I have an aversion to baking with yeast and Elana likes to bake! She had so many tasty looking breads and rolls, but I just wasn't ready to challenge myself to make them quite yet! I like how Elana rates each recipe by taste and by difficulty (both out of 5). Since I had just made
Banana Chocolate Chunk Nutella Muffins
last month I had to control myself not to make
Crunchy Nutella Bites
. For savory dishes, this
Red Curry Salmon with Coconut Brown Rice
caught my eye, as well as
Chicken with Pecan Cream & Mushrooms
. In the end though I decided to go with a sweet dish and made these Healthy Apple Oats Cheesecake Bars. They had a rating of 4 out of 5 on taste and a difficulty of 1.....my kind of recipe! My family loves cheesecake and I just don't make it enough. This was definitely an excuse for me to whip up a special treat for us but it isn't too bad, because "Healthy" is right in the title! I made a few changes to the recipe on the blog. The first one being that I used cream cheese instead of cottage cheese. I don't make cheesecake enough for me to try to make it healthy! Although I occasionally eat cottage cheese, when I'm on a healthy eating kick, it's not one of my favorite foods. And I just couldn't see it being as tasty as cream cheese. My daughter does not like nuts so I omitted the walnuts from the base/streusel. Based on Elana's afterthoughts I ended up using an 8"x8" pan. I should have used less oat mix in the cookie base and saved more for the streusel topping. The base was thick and I had barely any streusel topping. While she thought the crust was a little salty I actually enjoyed it. I might possibly cut it down to 1/4 teaspoon next time but I enjoyed the salty/sweet mix. I'm sorry for this not-so-stellar pic, but please don't let it deter you from making these great bars!
Healthy Apple Oats Cheesecake Bars
recipe slightly adapted from
Cook Book of Trial and Error
, which was adapted from
Cooking with Chopin
, adapted from
The Pajama Chef
Ingredients:
For the base / streusel:
1 1/2 cups old-fashioned oats
1/2 cup all-purpose flour
1/2 tsp baking powder
1/2 tsp salt
1/4 tsp baking soda + 1 tbsp lemon juice
1/3 cup honey
1/4 cup cold butter, cut into small pieces
For the cheesecake layer
8 oz bar cream cheese, softened
1/4 cup honey
2 tbsp all-purpose flour
1/2 tsp vanilla
1 egg
1 1/2 cups apple sauce
Directions:
1. Preheat the oven to 350 degrees. Grease a 8"x8" baking dish.
2. Prepare the cookie base in a large bowl. Use a wooden spoon to stir together the oats, flour, salt, and baking powder. Pour 1 tbsp or lemon juice over the baking soda, mix until bubbly and add to the bowl. "Cut in" the butter pieces with two knives or with a pastry cutter until the mixture resembles coarse crumbs. Then stir in the honey with the spoon. Set aside 1/4 cup of the cookie base. Press the remainder of the mixture into the bottom of the prepared pan and bake for 10 minutes.
3. For the cheesecake layer, while the crust is baking, beat cream cheese until smooth. Add the other ingredients, except apple sauce and process until combined.
4. After the cookie base has baked for 10 minutes, remove it from oven. Spread cheesecake filling over the partially-baked crust. Then spread the apple sauce on top. It will most likely sink partially, so you will have swirls rather than 2 separate layers. Sprinkle the reserved cookie topping over the apple sauce and bake for 30 minutes, or until topping is golden brown.
5. The cheesecake must cool down to room temperate (or even be refrigerated) before removing from the pan and cutting, otherwise it will break and sag.
6. Store in the fridge.
Family Rating:
1 1/2 thumbs up.