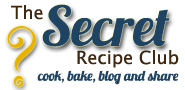 It's once again time for
The Secret Recipe Club
reveal. This month I was assigned
The Keenan Cookbook
. The blog is run by couple Chris and Rachel. They use their blog as a way to archive their family recipes, old and new. While perusing the blog I bookmarked these
Peach-Upside Down Muffins
and this
Caramelized Onion & Spinach Olive Oil Quick Bread
to make at a later time. However, I wanted to cook a dinner and ended up making this
Braised Country Style Pork Ribs in Ginger Ale & Hoisin Sauce
. I wanted to fit in another cool weather, comfort food type dish while I'm waiting for the warmer weather to arrive. (Yes, it's technically spring, but it's still feeling pretty chilly here in NY!) I've braised ribs before in the Dutch Oven and I've cooked with hoisin sauce. I thought that the ginger ale sounded like an interesting addition to this recipe. Being a stay-at-home mom I had the luxury of being able to make this meal for a weeknight dinner for us. However, Chris and Rachel left make-ahead directions, which I've also included. Otherwise, this would be perfect meal to make when you have a nice, relaxing weekend. This was super easy to put together. The longest time was spent shredding the pork (I didn't use boneless ribs!). I doubled the sauce, as suggested, because we also are a sauce-loving family! We all enjoyed this dish a lot! When my son eats all of his dinner and asks for extra sauce on his rice, it's a winner!
Braised Country Style Pork Ribs in Ginger Ale & Hoisin Sauce
Recipe from
The Keenan Cookbook
via
The Cookin' Canuck
Ingredients:
2 lbs. country-style (boneless) pork ribs
1 tsp kosher salt
3/4 tsp freshly ground black pepper
2 tbsp vegetable oil
1 tbsp peeled and finely chopped fresh ginger
2 garlic cloves, finely chopped
1 cup good-quality ginger ale
1/2 cup low-sodium chicken broth
2 tbsp hoisin sauce
2 tsp soy sauce
1 tsp cornstarch
2 tsp water
Directions:
1.Preheat oven to 325 degrees F.
2.Season pork ribs with kosher salt and black pepper. Heat vegetable oil in a large Dutch Oven pan over medium-high heat. Brown the pork, 2 to 3 minutes per side. Remove the pork to a plate and set aside.
3.Turn the heat to medium and remove all but 1 teaspoon of the oil. Add chopped ginger and garlic. Sauté for 30 seconds. Add ginger ale, chicken broth, hoisin sauce, and soy sauce. Stir with a whisk until the hoisin sauce dissolves. Add the pork ribs to the pan and turn to coat. Put the lid on the Dutch Oven and cook in the oven until the meat is very tender, turning occasionally, about 2 hours.
4.Lower the oven heat to 200 degrees F. Remove the ribs from the braising liquid, place in an oven-proof dish, and keep warm in the oven.
5.Skim fat off the surface of the liquid. Set the saucepan with the braising liquid over medium heat and boil until the sauce reduces by half. In a small bowl, stir together arrowroot or cornstarch and water. Whisk into the sacue and cook for an additional 5 minutes.
6.With two forks, shred the pork into bite-sized pieces and stir into the sauce. Serve over rice. Garnish with sliced green onions.
7.Make-ahead: Once the ribs are cooked, let cool completely. Cover the Dutch Oven and store in the fridge for up to two days. When ready to use, uncover and skim off the fat. Reheat the ribs over medium heat for about 10 minutes. Remove the ribs from the pan, keep warm, and follow the directions above for finishing the sauce.
Family Rating:
2 thumbs up!