I am so happy to be participating in the "Crazy Cooking Challenge" this month, hosted by Tina at
Moms Crazy Cooking
. This month's challenge was to make a spaghetti with red sauce recipe that was found on another food/cooking blog. I knew that I didn't want to go with a traditional marinara sauce. After perusing a few food and cooking blogs I found this recipe at the
Stolen Moments
food blog. Kate is a mom to 5 kids and creates delicious and budget friendly meals. Please take a minute and stop by her blog and let her know that I sent you!
What I loved about this recipe was that it could be made in the slow cooker! There was very little work involved and it was really good. The chicken was a nice variation on traditional meat sauces. I liked how the cream cheese helped flavor the sauce and give it a creamy texture. Knowing my tempermental slow cooker and since I was using thin chicken breasts, I only cooked my sauce on for two hours on low before adding the spinach and cream cheese. It could probably have even cooked for less time since my chicken was a little tough when shredding. Overall I enjoyed this dish. Like I said, it was definitely a quick and easy meal to put together. My kids gave me a hard time about eating it, which I can't understand, since they love spaghetti and chicken.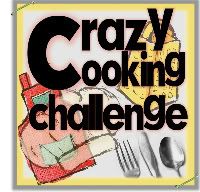 Creamy Chicken Marinara
recipe slightly adapted from
Stolen Moments blog
Ingredients:
2 - 8 oz cans tomato sauce
1 - 15 oz can diced tomatoes
5 cloves garlic, minced
2 teaspoons Penzy's Pasta Sprinkle
1 teaspoon sugar
1/2 teaspoon salt
1/2 teaspoon black pepper
1 bay leaf
1 lb boneless chicken breasts
4 oz block cream cheese, cut into cubes
1 - 10 oz box frozen spinach, thawed and excess water squeezed out
1 lb. spaghetti, cooked according to package
grated parmesan cheese
Directions:
1. Combine tomato sauce, diced tomatoes, garlic, and seasonings in a bowl and stir until mixed.
2. Place the chicken breasts in a crockpot or casserole dish. Pour sauce on top. Cook on high for 3 hours in a crockpot or bake at 250 degrees for 3 hours.
3. Add the cream cheese and spinach. Continue cooking using preferred method for another hour.
4. Remove chicken and bay leaf. Stir sauce until creamy. Shred chicken and add back into the sauce. Serve over spaghetti. Garnish with parmesan cheese, if desired.
Family Rating
: 1 thumb up.