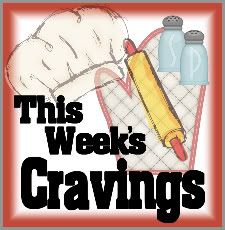 In addition to her monthly Crazy Cooking Challenge Tina at
Moms Crazy Cooking
also hosts a weekly This Week's Cravings themed link-up. In honor of St. Patrick's Day, This Week's Cravings is Green Food. I have shared the collard green recipe from yesterday and I am also sharing this recipe.
Unfortunately, I rarely focus on veggie sides. While I make a new main dish almost every night and experiment with carb sides, it's just so easy to take a bag of frozen veggies out and stick them in the microwave. When I learned about the theme for This Week's Cravings I looked for main dish recipes and didn't really find anything besides pesto that really stood out as being green. Broccoli....definitely green. Broccoli crowns were on sale at the grocery store this week which made it even better. Plus, I got to try a new veggie side dish recipe.
My kids like broccoli so I make it a lot, mostly of the frozen, steam in a bag, variety! I ended up adapting this recipe a lot. I couldn't see myself buying a red pepper and a red onion for the 3 Tbsp. each the original recipe called for. I'm really trying to avoid the unused pile up in the produce drawer, which ultimately ends up getting thrown out. Then I assumed I had rice wine vinegar, which I didn't. I had rice wine and rice vinegar but not rice wine vinegar. The original recipe called for regular distilled vinegar as a substitute but I used half each of what I did have and hoped for the best! I didn't add the crushed red pepper until after I spooned the sauce over the kids' broccoli. My daughter thought it was too sweet. However, my son ate his and both my husband and I enjoyed it. It was definitely a nice change from regular steamed broccoli. I served this with Steak and Cheese Sandwiches with Mushrooms (see tomorrow's post!).
Spicy Broccoli Salad
recipe adapted from
The EatingWell Rush Hour Cookbook,
1994.
Ingredients:
1 1/2 pounds broccoli
1 1/2 tablespoons rice vinegar
1 1/2 tablespoons rice wine
1 tablespoon sesame oil
2 teaspoons light brown sugar
1 teaspoon crushed red pepper
Salt, to taste
Preparation:
1.Cut off broccoli florets. Trim and peel stems; cut into 1/2-inch-thick slices. Place broccoli florets and stems in a steamer basket over boiling water; cover and steam until cooked but still crisp, 2 to 3 minutes. Refresh under cold water. Drain well.
2.Stir together vinegar, oil, brown sugar and crushed red pepper in a serving bowl. Just before serving, add the broccoli and toss to combine. Season with salt.
Family Rating
: 1 1/2 thumbs up.