I had so much fun participating in Tina @
Moms Crazy Cooking
Crazy Cooking Challenge last month when we had to make a spaghetti with red sauce dish. I couldn't wait for this month's challenge, which was to make a blueberry muffin. The recipe must be found from another food/cooking blog.
Now, I have to admit, my muffins did not look like the muffins that Avanika made on her blog (hers look MUCH better!). I was ready to go find another recipe but you know what? I tasted one and they were delicious! If you go to Avanika's blog @
Yumsilicious Bakes
you can see that there's supposed to be a crumb topping on the muffin. I made the topping, but I kind of knew when I was making the topping that it wasn't really "crumby" enough. The butter/sugar/cinnamon topping sank into the muffin so it had bits of "crumb" mixed into the batter instead of on top. She also gives the ingredients for a streusel topping, though I went with the crumb. Did I already mention though how moist and tasty they were? None of these muffins even had a chance of being frozen for another time because we at them all!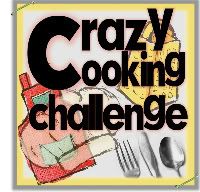 To Die For Blueberry Muffins
From
Yumsilicious Bakes
Ingredients
:
1 1/2 cups all-purpose flour
3/4 cup white sugar
1/2 teaspoon salt
2 teaspoons baking powder
1/3 cup vegetable oil
1 egg
1/3 cup milk
1 cup fresh blueberries
For the crumb topping
[the one on the muffins]
1/2 cup white sugar
1/3 cup all-purpose flour
1/4 cup butter, cubed [I used about 1/2, it wouldn't hold]
1 1/2 teaspoons ground cinnamon
For the streusel topping I usually use, and would prefer with these:
2 tablespoons flour
3 tablespoons rolled oats
1/4 cup packed brown sugar
1/2 cup chopped toasted pecans [I usually use walnuts]
2 tablespoons unsalted butter, softened
Directions:
For the muffins
:
1.Preheat oven to 350 F (180 C). Grease muffin pan or line with muffin liners.
2.In a large bowl, sift together the flour, sugar, salt and baking powder.
3.Place vegetable oil into a 1 cup measuring cup; add the egg and enough milk to fill the cup.
4.Mix this with flour mixture. Fold in blueberries.
5.Fill muffin cups right to the top, and sprinkle with crumb topping mixture.
For the crumb topping:
1.Mix together sugar, flour, butter, and cinnamon.
2.Mix with fork, and sprinkle over muffins before baking.
For the streusel topping:
1.In a medium bowl, stir together the flour, oats, brown sugar, and pecans.
2.Using a fork, cut in butter until well combined and mixture begins to hold together a bit.
Bake for 20 to 25 minutes in the preheated oven, or until done.
Family Rating:
2 thumbs up!