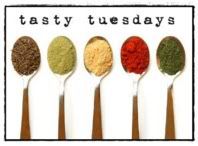 We have wanted a Dutch Oven for the longest time and finally got one as a Christmas present from my in-laws. Knowing we had the oven, I saw this recipe and thought it would be a perfect time to try it out. I just picked the recipe and bought the ingredients, then left the rest for The Weekend Chef. We opted for the Asian-style tacos and served the shredded meat in soft tortillas with marinated match-stick cucumbers (in rice vinegar). This really is a weekend type recipe because it cooks for almost two hours and requires occasional turning. However, depending on the size of the pork shoulder and the size of your family, you may have leftovers which can either be eaten as lunch or another dinner. We served ths with some roasted potato wedges. All I can say is YUM! The tenderness of the pork with the sweetness of the sauce. Amazing! The Weekend Chef is now pysched to cook up some more deliciousness in the Dutch Oven, so stayed tune for more recipes!
Soy and Cola-Braised Pork Shoulder
Cooking Light,
October 2011
Serve this East-meets-West pulled pork on hamburger buns or Kaiser rolls with shaved cucumber and carrot ribbons tossed with rice vinegar. Or stuff it into tortillas for Asian-style tacos with matchstick-cut cucumber and carrot.
Ingredients:
1 tablespoon dark sesame oil
1 (3 1/2-pound) bone-in pork shoulder (Boston butt), trimmed
1/2 teaspoon kosher salt
1 tablespoon minced peeled fresh ginger
4 garlic cloves, minced
2 cups cola (such as Coca-Cola)
1/2 cup hoisin sauce
1/4 cup rice vinegar
1/4 cup lower-sodium soy sauce
1 cup diagonally sliced green onions
Preparation:
1. Preheat oven to 300°.
2. Heat a Dutch oven over medium-high heat. Add oil to pan. Sprinkle pork evenly with salt. Add pork to pan; sauté for 8 minutes, turning to brown all sides. Remove pork. Add ginger and garlic; sauté for 1 minute, stirring constantly. Stir in cola and the next 3 ingredients (through soy sauce); bring to a boil. Return pork to pan; cover. Bake at 300° for 1 hour and 50 minutes or until tender, turning occasionally. Remove pork from pan, and let stand for 10 minutes. Shred pork with 2 forks. Skim fat from cooking liquid.
3. Place pan over medium-high heat; bring cooking liquid to a boil. Cook 15 minutes or until reduced to about 2 cups, stirring occasionally. Combine pork and 3/4 cup sauce in a bowl; toss to coat. Top with green onions. Serve pork with remaining 1 1/4 cups sauce.
Family Rating:
2 thumbs up!